Anti Bullying Chapter Book – Song Lee and the "I Hate You Notes"
Song Lee and the "I Hate You" Notes written by Suzy Kline and illustrated by Frank Remkiewicz
Anti bullying chapter book (reprint) published by Puffin
Suzy Kline has written many books for young readers. She writes about school life, family life and social situations in chapter book series that feature Horrible Harry
, Song Lee
and
Herbie Jones
.
In Song Lee and the "I Hate You" Notes, Mary has been staying up late. She is tired when she arrives at school and she is grumpy for most of the day.
Everyone laughed but Mary. She was too busy biting and chewing on her braid. Her rotten mood was as mean and angry as the dark clouds gathering outside our classroom window.
I could tell something bad was going to happen.
I hoped it was just a storm.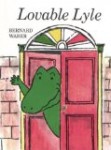 Doug's intuition is correct. Not only is a storm brewing outside, there is one developing inside Miss Mackle's classroom. Mary is upset with Song Lee and leaves two notes on her desk. Harry and Doug see Song Lee open the notes. They quietly retrieve the notes from a garbage can and read them. They are reluctant to "tattle" but they can see that Song Lee is upset. Harry speaks quietly to Miss Mackle and she is grateful for the information he provides. She has the perfect solution: she reaches for a picture book. Lovable Lyle
by Bernard Waber has just the right message for Mary and her classmates.
Best suited to children in grades two and three, Song Lee and the "I Hate You" Notes realistically depicts both the bully and her victim and encourages bystanders to get involved and enlist the assistance of an adult.
Song Lee and the I Hate You Notes at Amazon.com
Song Lee and the I Hate You Notes at Amazon.ca
Lexile Level 650L
Lovable Lyle at Amazon.com
Lovable Lyle at Amazon.ca