Billy Bully Learns Consequences of Bullying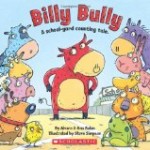 Billy Bully A school-yard counting tale – written by Alvaro and Ana Galan, illustrated by Steve Simpson
Counting book about bullying and friendship published by Scholastic
When Billy Bully arrives at the school playground, his animal friends are already there. Cow is enjoying a swing, horse is on the teeter totter and duck is on the slide. Within moments, Billy Bully has taken charge. He chases the others off the slide, grabs toys and he won't wait his turn. One by one, he upsets each of his classmates and loses friends.
Eventually Billy Bully discovers that every one of his classmates has run away from him. There is no one to play with.
Now Billy Bully's feeling blue,
Until – he figures out just what to do.
He says to Sheep, "It's you who won."
And now his friends are up to 1!
After counting down his friends, Billy sets to work repairing the harm he has done.
When Billy Bull learns how to play,
all his friends come back to stay.
Best suited to preschool or kindergarten age children, Billy Bully is a rhyming counting book with an important message about bullying and friendship. It includes an Afterword for parents and teachers by Ellen Jacobs, Ph.D., Clinical Social Work
Billy Bully at Amazon.com
Billy Bully at Amazon.ca