Walrus's Gift – Anti Bullying Picture Book

Storytime Standouts looks at a picture book with an important anti bullying message…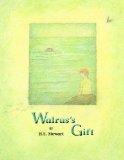 Walrus's Gift written and illustrated by H.E. Stewart
Antibullying picture book published by Tudor House
When a young walrus notices a sad child sitting and looking out at the ocean, the walrus wonders why the boy is unhappy. He turns, first to his mother and then to his grandfather, for help. His grandfather gives the little walrus an important and unusual present… The gift allows the curious walrus to discover why the human boy is alone and unhappy.
The young walrus discovers that the boy is not like his peers; his hair is different and he is not interested in their games. The boy is being teased and bullied by the children around him. Armed with information about the problem facing the boy, Grandfather Walrus calls many sea creatures together, seeking their assistance and suggestions. Before long, a plan is made and the young walrus steps forward to help the boy. Over time, the young walrus suggests four possible ways the young boy could deal with bullying.
The Walrus's Gift anti bullying suggestions match those recommended by the WITS program: Walk Away, Ignore, Talk it Out, Seek Help.
It is important to note that the young walrus's actions to help the boy are not only successful, they are celebrated by the sea creatures. This exploration of what it means to notice a problem with another person, be concerned and to take action should encourage young readers to consider how, in a similar situation, they might help child in difficulty.
Gentle, soothing illustrations match the thoughtful, caring tone of Walrus's Gift.
Best suited to children aged five and up, additional content outlines ways Walrus's Gift is a story that echos the animal characters and wisdom typical of native legends.
Walrus's Gift at Amazon.com
Walrus's Gift at Amazon.ca