Top Ten Literacy Highlights of My Middle Grade Year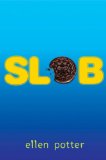 We all have our strengths in the classroom. Mine, as you may have guessed it, is Literacy. It's because we are good at what we know and love. This is my area of passion so it translates well to most of the kids. That doesn't mean it's smooth sailing all the time or effortless; but when you love something so much, even the struggles can seem engaging. So, to recap another year that has gone by incredibly fast, I'm sharing my top ten literacy moments from this school year.
10. Almost every student in my class of 30 improved their reading level.
9. Several students recommended books they thought I should read and told me why
8. Forgetting the first book I read this year and having a student bring it up while making a connection the other day. Ellen Potter's Slob left a lasting impression on them.
7. Starting a blog site where the students talked about their favourite books, questions, predictions, and started writing a group story.
6. Out of my Mind by Sharon Draper.
5. Eight Keys by Suzanne LaFleur
4. Writing Every Day. Especially on the days where I say I'll give them a break and they say "NO! We want to write."
3. Listening to the creative ways students express themselves. One of my students made a list called: Ten Reasons I hate to write. Another wrote a Wanted Ad for a perfect teacher.
2. Our class did a write and pass. So each student wrote one sentence then passed their sheet. The next person read that sentence, added a new sentence that made sense and continued the story. We did this in two groups of fifteen.
1. One of my two main reluctant readers (the boy) asked me if he could skip the free time they'd earned so that he could read (**insert teacher doing cartwheels here**). My other reluctant reader (the girl) came to me and said I need a book. I said, 'Okay. How about this?" She'd read it. "This?" She'd read it. This? Read. This? Read. This went on for several books. She's read over a dozen books since September.
There is absolutely no better feeling as a teacher than knowing you helped a child connect to books. Books open doors, minds, hearts, and worlds in a way nothing else can. These journeys are powerful and I feel so grateful for the ones my students took me on this year.