Super Series Books for Middle Graders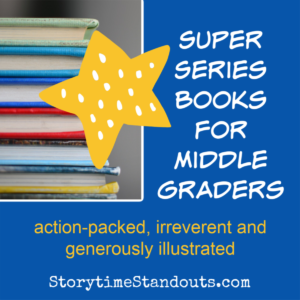 ABC Canada Literacy Foundation has identified 'three potential reading slump times that can hinder a child's reading development. ' Grade four is one of those times. Grade four is just about the time that readers encounter longer chapters, smaller print and more complex vocabulary.
We lose some readers in the transition. My two boys are nine and twelve – one loves to read and one loves to "do" so I know that finding engaging books is critical for this age group. As well, I probably read more kids' books than most moms so I'm often asked for book recommendations for middle grade boys. Many of the best series for this age group are funny (occasionally rude), action-packed, irreverent and some are very generously illustrated. The books often feature kids who find themselves in trouble – at school, at home, sometimes even in the library.
With nine, ten and eleven year old reluctant readers, we need to keep our goal in mind: get books (almost any books!) into their hands and encourage them to read.
Concurrently, in an ideal world, parents will continue to read aloud more challenging and diverse books – but that is for another day.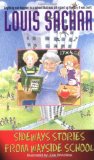 Sideways Stories from Wayside School – Written by Louis Sachar (author of Holes)
I have had great success with this book. The wacky humor and very short chapters are very appealing to kids. Each chapter tells about one student at Wayside School – you don't have to read them in order so kids can jump around the book if they wish.
Sideways Stories from Wayside School at Amazon.com
Sideways Stories From Wayside School at Amazon.ca
Books in the Wayside School Series
Sideways Stories From Wayside School
Wayside School is Falling Down
Wayside School Gets A Little Stranger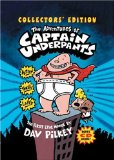 The Adventures of Captain Underpants– written by Dav Pilkey
Have you ever met a boy who didn't enjoy the 'Action, Thrills, and Laffs of a Captain Underpants book? With rude humor and tons of illustrations, this series is great for even the most reluctant reader. Just don't tell your kids that the series is mom approved – that would spoil the fun!
The Adventures Of Captain Underpants Collectors' Edition at Amazon.com
Captain Underpants Boxed Set: Books 1-4 at Amazon.ca
Books in the Captain Underpants Series silliness and rudeness are perfect for middle grade readers
The Adventures of Captain Underpants
Captain Underpants and the Attack of the Talking Toilets
Captain Underpants and the Invasion of the Incredibly Naughty Cafeteria Ladies from Outer Space (and the Subsequent Assault of the Equally Evil Lunchroom Zombie Nerds)
Captain Underpants and the Perilous Plot of Professor Poopypants
Captain Underpants and the Wrath of the Wicked Wedgie Woman
Captain Underpants and the Big, Bad Battle of the Bionic Booger Boy, Part 1: The Night of the Nasty Nostril Nuggets
Captain Underpants and the Big, Bad Battle of the Bionic Booger Boy, Part 2: The Revenge of the Ridiculous Robo-Boogers
Captain Underpants and the Preposterous Plight of the Purple Potty People
Captain Underpants and the Terrifying Re-Turn of Tippy Tinkletrousers
Captain Underpants and the Revolting Revenge of the Radioactive Robo-Boxers
Captain Underpants and the Tyrannical Retaliation of the Turbo Toilet 2000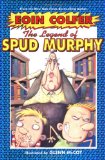 The Legend of Spud Murphy – written by Eoin Colfer (author of the Artemis Fowl series)
When Will and Marty Woodman are told they must spend the summer in Spud Murphy's Library, they know it will be a dangerous assignment. They've heard about the 'gas-powered spud gun she keeps under her desk.' Really good fun and a positive message about books and reading!
Eoin Colfer's The Legend of Spud Murphy at Amazon.com
Eoin Colfer's The Legend of Spud Murphy at Amazon.ca
Books in the Legends of Series – popular with grade four boys
Eoin Colfer's Legend of Spud Murphy
Eoin Colfer's Legend of Captain Crow's Teeth
Eoin Colfer's Legend of the Worst Boy in the World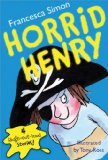 Horrid Henry's Wicked Ways – written by Francesca Simon
One of my nine year old's favorites, Horrid Henry really is 'awesomely wicked.' It is the perfect antidote when you've had a rough day and you long to hear about someone who can relate to your troubles.
Horrid Henry at Amazon.com
Horrid Henry at Amazon.ca
Books in the Horrid Henry Series –
Horrid Henry
Horrid Henry and the Secret Club
Horrid Henry Tricks the Tooth Fairy
Horrid Henry's Nits
Horrid Henry Gets Rich Quick
Horrid Henry's Haunted House
Horrid Henry and the Mummy's Curse
Horrid Henry's Revenge
Horrid Henry and the Bogey Babysitter
Horrid Henry's Stinkbomb
Horrid Henry's Underpants
Horrid Henry Meets the Queen
Horrid Henry and the Mega-Mean Time Machine
Horrid Henry and the Football Fiend
Horrid Henry's Christmas Cracker
Horrid Henry and the Abominable Snowman
Horrid Henry Robs the Bank
Horrid Henry Wakes the Dead
Horrid Henry Rocks
Horrid Henry and the Zombie Vampire
Horrid Henry's Monster Movie
Horrid Henry's Nighmare
Horrid Henry Krazy Ketchup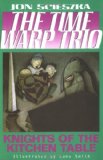 The Time Warp Trio by Jon Scieszka
Featuring time travel, adventure, humor and a touch of fantasy, The Time Warp Trio is a great pick for middle grade readers. Sam, Fred and Joe use The Book to travel through time from one exciting adventure to another. I've had very good success drawing boys into this series. There is something for everyone: pirates, knights, neanderthals and Egyptians.
Time Warp Trio #1 The Knights of the Kitchen Table at Amazon.com
Time Warp Trio #1 Knights Of The The Kitchen Table at Amazon.ca
Books in the Time Warp Trio Series –
Knights of the Kitchen Table
The Not-So-Jolly Roger
The Good, the Bad, and the Goofy
Your Mother Was a Neanderthal
2095
Tut Tut
Summer Reading Is Killing Me
It's All Greek to Me
See You Later Gladiator
Sam Samurai
Hey Kid, Want to Buy a Bridge?
Viking It and Liking It
Me Oh Maya
Da Wild, Da Crazy, Da Vinci
Oh Say, I Can't See
Marco? Polo!
Be sure to check out…