Help Kids learn letters of the alphabet with this fun and easy-to-make alphabet recognition learning game for preschool or kindergarten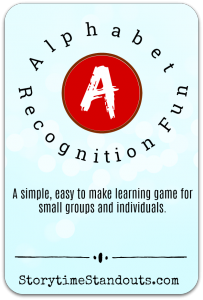 Diecuts With A View Alphabet Scrapbook Paper + A Canning Seal = An easy-to-make Alphabet Recognition Learning Game
This is a very simple-to-make yet effective letter recognition game. I use this activity with small groups (of up to twelve children). Each child receives one canning ring
and one page of laminated scrapbook paper. The scrapbook paper has a fairly large alphabet motif on it. In the pictured game, I used DCWV scrapbook paper. I am guessing that it has since been discontinued because I can't find an example of it on their website.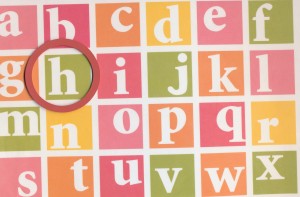 My Scotch® Laminating Dispenser
is 8.5″ wide so I cut the paper to fit the laminator and I put Y and Z on the back of the game.
The children sit in a circle and the preschool or kindergarten teacher shows the children a letter or calls out a letter (or letter sound). The children put their rings around the correct letter. It is very easy for a teacher to quickly survey the rings and correct any that are in the wrong place.
If you can't find scrapbook paper, you could use these
This game alphabet learning game could be adapted to show the children an uppercase letter and have them locate the corresponding lowercase letter. Alternatively, the teacher could make the letter sound and the children could locate the corresponding letter.
I like the fact that it is easy to scan all of the children's rings and quickly identify children who have chosen the wrong letter.
Viceroy Rubber & Plastics 12Pk Red Jar Rubber at Amazon.com
---
---
Some of our Most Popular Alphabet Recognition Posts
Hover over the photo for a description of the activity. Click on the photo to read the full post
We invite you to follow Storytime Standouts' Alphabet Craft Board on Pinterest
Follow Storytime Standouts's board Alphabet Crafts on Pinterest.