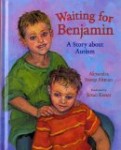 Waiting for Benjamin A Story about Autism written by Alexandra Jessup Altman and illustrated by Susan Keeter
Autism picture book published by Albert Whitman & Company
Written from the perspective of a sibling, Waiting for Benjamin A Story about Autism deals with several issues that are important to brothers and sisters of children who are diagnosed with Autism. Alexander is frustrated. His younger brother doesn't play with him. Instead, Benjamin wiggles his fingers and stares at the wall. Alexander can't wait for Benjamin to grow up and take an interest in the same things he likes. Benjamin's older brother has other worries, too. He worries that his friends will tease him about his brother's unusual behaviour and he feels jealous. He doesn't understand why Benjamin is rewarded for seemingly easy behaviours like saying, 'ball.' Alexander would love to be praised and to share in the special treats.
I wanted it to be my turn. Then I would say everything perfectly, and Julie would smile and give me a special reward.
Waiting for Benjamin follows Benjamin from before his diagnosis until he learns a few words and begins to respond to his older brother. Best suited as a family resource, this Autism picture book focusses on the relationship between the two brothers and ends on a somewhat positive note with Alexander gaining understanding about his brother's challenges and Benjamin showing some interest in playing with his brother and attempting some words.
Waiting For Benjamin: A Story about Autism at Amazon.com
Waiting for Benjamin: A Story about Autism at Amazon.ca
Note: Author Alexandra Jessup Altma was a Senior Interventionist, Autism Spectrum Program, Howard Center for Human Services