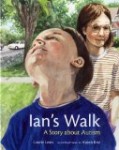 Ian's Walk: A Story About Autism Written by Laurie Lears and illustrated by Karen Ritz
Autism picture book published by Albert Whitman & Company
Ian's mom is reluctant to have him go to the park with his sisters. She warns the two girls to keep a close eye on him. Enroute to the park, the children pass a diner. Ian is fascinated by the circling ceiling fan. He hardly notices the siren of a passing fire truck but seems to hear something else. Not interested in fragrant lilacs, Ian would rather put his face up to a brick wall.
Ian feels things differently … while Tara and I toss cereal to the ducks, Ian lies on the ground with his cheeks pressed against the hard stones.
Ian is non verbal and sometimes waves his hands. Aware of how Ian is different and conscious that other people watch him, his sister acknowledges that she sometimes feels angry.
When Ian wanders away while they are all at the park, his frantic sisters race to find him. Finally, Julie tries to think like her brother does. She remembers he likes a bell and, sure enough, finds him underneath it.
As the three siblings return home, they pause to enjoy the walk and especially the sights, sounds and smells that matter to Ian.
Ian's Walk acknowledges the frustrations of loving a sibling who is autistic and encourages young readers to consider a different perspective.
Beautiful watercolour illustrations enhance the narrative and lovingly depict the children's facial expressions.
Ian's Walk is written from the perspective of a sibling.
Ian's Walk: A Story about Autism at Amazon.com
Ian's Walk: A Story About Autism at Amazon.ca