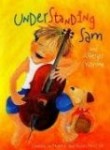 Understanding Sam and Asperger Syndrome written by Clarabelle van Niekerk and Liezl Venter, illustrated by Clarabelle van Niekerk
Picture book about a child with Asperger Syndrome published by Skeezel Press
Sam, his sister Emma and their parents live in a house with a red door. Sam was a happy boy but he was a little different. We follow Sam through his week and learn that he has difficulty making friends, he can become "stuck" and reluctant to change. Sam notices when his clothes feel scratchy and when his classmates tease him. He finds being in school challenging at times.
One evening, without his parents knowing, Sam leaves his house and walks away. His family worries as they scramble to find him and to keep him safe. This incident, together with his difficulties at school, precipitates a visit to the doctor. Sam is assessed and, before long, the family learns that Sam has Asperger Syndrome, a form of autism.
Understanding Sam and Asperger Syndrome is an appropriate story for children in preschool, kindergarten and early primary grades. It provides readers with perspective on the challenges faced by Sam, his family and his classmates. As well, Understanding Sam and Asperger Syndrome celebrates Sam's abilities.
At the conclusion of the story, readers are offered 10 Helpful Tips including Treat your friend as a regular kid, take turns, and "change is hard, hang in there." The tips are each accompanied by a one or two paragraph explanation.
Understanding Sam and Asperger Syndrome was a Seal of Approval Winner Holiday 2008 from The National Parenting Center
It was also nominated for Speech Pathology Australia's Book of the Year in the lower primary category
Understanding Sam and Asperger Syndrome at Amazon.com
Understanding Sam and Asperger Syndrome at Amazon.ca