Here Comes Hortense! written by Heather Hartt-Sussman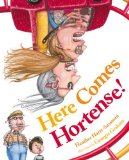 Here Comes Hortense! written by Heather Hartt-Sussman and illustrated by Georgia Graham
Picture book about jealousy, emotions and blended families, published by Tundra Books
When a six year old boy, his grandmother and her new husband go on vacation to a theme park, all is well until Hortense arrives. Hortense is Bob's granddaughter and she is suddenly a threat. Nana shares her hotel room with Hortense, she sings "Lavender's Blue" to her and she sits next to her for all the scary rides. To add insult to injury, Hortense even devises a special name for Nana!
Nana's grandson is despondent. He can't believe that Hortense has taken his special place with his grandmother.
It is not until Nana and Gramps take a ride in the Tunnel of Love that the two children are able to gain perspective and learn to like each other.
Note: Here Comes Hortense! is a follow up to Heather Hartt-Sussman and Georgia Graham's picture book titled Nana's Getting Married
Here Comes Hortense! at Amazon.com
Here Comes Hortense! at Amazon.ca