Family Diversity, Anticipating the Weekend – Monday is One Day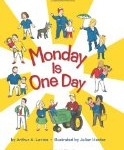 Monday is One Day – written by Arthur A. Levine and illustrated by Julian Hector
Picture book published by Scholastic Press
Monday through Sunday,
the whole week through,
each day I count the ways
I love to be with you!
Monday is One Day
shows young readers that it is not easy to go to work especially when earning a living means spending time away from those we love. Illustrations depict family diversity including one parent, two parent, young parents and old, living in rural, city and suburban homes. The message of unconditional love flows beautifully throughout Monday is One Day and it is lovely to see all the families enjoy leisure time together on Saturday and Sunday.
Printable T Rex as seen in the story
Monday is One Day at Amazon.com
Monday is One Day at Amazon.ca
You may also be interested in our page titled "Diversity." We highlight picture books and chapter books that celebrate and inform us about human diversity including learning disabilities, physical disabilities, allergies, single parent families, interracial families, same sex parents, aging, death and more.
Don't miss our page of quotes about diversity.