10 Best Picture Books – Choosing is Next to Impossible!
While thinking about what to pack for a mini family vacation next week, it struck me that I should come up with a list of my TOP TEN picture books. As soon as I began trying to choose, it became my TOP TWELVE.  I thought it'd be a good exercise because whenever we go away, we have to be very firm with our youngest child about what she can and cannot pack. If you have ever read Robert Munsch's
Too Much Stuff

(see how I snuck an extra book in there that's great but won't be on my top

ten

twelve?) you'd have great insight into how my five year old packs. I don't like limiting how many books our girls can bring, but if we didn't, we wouldn't have enough room to bring our clothes! Hopefully it'll be a while before they figure out that I have NO limit thanks to my Kindle. But if, like them, I was stuck picking ten stories for bedtime or any other time, I wondered which ones would make my list. These are not in order by favourite because that's just asking too much of myself.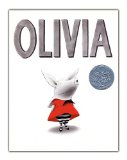 Olivia written and illustrated by Ian Falconer
Olivia is the funniest pig ever! She's determined, stubborn, and highly amusing. I love the simplicity and the truth of Olivia. She's tiring, she's demanding, but she's so loved. I only wish that Ian Falconer and Kevin Henkes would write a book together so that Olivia could play with Lilly (see below).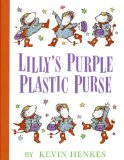 Lilly's Purple Plastic Purse by Kevin Henkes
Lilly is perhaps my favorite storybook character. She perfectly encapsulates the egocentric child in such a charming, fun way. I love the way Henkes uses simple sentences in his writing to tell you so much. "Lilly loved school. She loved the pointy pencils. She loved the squeaky chalk". I love Lilly.
The Princess and the Pea by Hans Christian Andersen
I'm not sure what makes this story one of my favorite fairy tales, but it is. I love the queen piling on all of the mattresses and bedding and I love the version where the prince realizes he loves her, even if she isn't a real princess.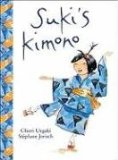 Suki's Kimono by Chieri Uegaki and Stephane Jorisch
This is a beautiful story about independence and confidence. It's not easy for Suki to wear her kimono to school when even her sisters are wearing brand new clothes and all the kids stare at her. But she's not afraid to be who she is and wear what she wants. I read this book, the first time, years ago and still enjoy it every time I read it to my daughters or to a class.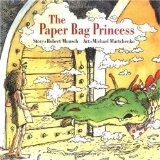 The Paper Bag Princess written by Robert Munsch and illustrated by Michael Martchenko
My kids love this book because Elizabeth says Ronald is a "bum". I love it because Elizabeth is clever and strong and not only defeats the dragon but gets her happily ever after by NOT getting her happily ever after.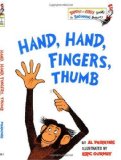 Hand, Hand, Fingers, Thumb written by Al Perkins and illustrated by Eric Gurney
I love the simple rhyme and rhythm of this book. To this day, whenever I cross a street and say to my kids "Hand", they both reply "hand, fingers, thumb". It's delightful.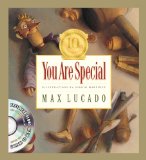 You are Special written by Max Lucado and illustrated by Sergio Martinez
This book makes me smile every time I read it. I love the message that believing in oneself comes from inside, not from the beliefs of others. The symbolism of the stickers falling off of the Wemmicks when they stop caring about how others see them is beautiful.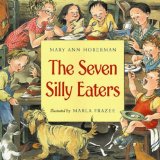 The Seven Silly Eaters written by Mary Ann Hoberman and illustrated by Marla Frazee
This book is adorable. The pictures are fantastic and I love the pickiness of the kids. The rhyme is awesome and the chaos and love projected in the words and the pictures are realistic and amusing.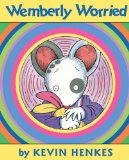 Wemberly Worried by Kevin Henkes
Just so you understand how difficult it was for me to pick only 12 favorites, I should mention that I absolutely LOVE,  LOVE,  LOVE every Kevin Henkes book I've ever read, including Zebra Wall, which is a novel that I didn't even know, until last year, that he had written. Wemberly is me. She is my oldest daughter. She is every kid who hates uncertainty and is comforted by the familiar.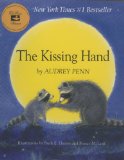 The Kissing Hand written by Audrey Penn with illustrations by Ruth E. Harper and Nancy M. Leak
The first time I read this story, I cried a little. Our oldest daughter was almost three when I bought it and read it to her. It was exactly what I wanted and still want for my children- to know that wherever they go and whatever they do, I love them and I'm with them.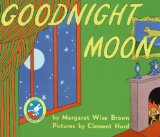 Goodnight Moon written by Margaret Wise Brown and illustrated by Clement Hurd
I can recite this book word for word. I love the line "Goodnight nobody". When our youngest daughter was born, we decorated her bedroom as the 'great green room'. We had all of the details; "the old lady whispering hush" drawn on the wall," two kittens and a pair of mittens". For a border, we wrote the words of the story.  It will forever be one of my favorites.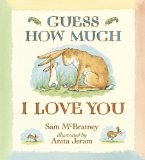 Guess How Much I love you written by Sam McBratney and illustrated by Anita Jeram
I loved this book even before I really understood it. I gave it to my mom before I had kids and she nodded as though she had some sage understanding of something I did not. Then I had kids and I really got it; because even though they love me to the moon, I love them to the moon and back.
There. I did it. I narrowed it down and chose twelve favorites. I'm so very proud of myself for not even mentioning Sleepy Bears by Mem Fox, Pocket Full of Kisses by Audrey Penn, every other Kevin Henkes book, or Hooray for Diffendoofer Day by Dr. Seuss. It's probably safe to say that I, too, need strict guidelines for what I can and cannot pack.