Zero Kisses for Me by Manuela Monari- Not Even a Tiny Bit Bleah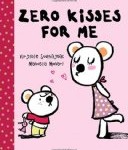 Zero Kisses for Me written by Manuela Monari and illustrated by Virginie Soumagnac
Picture book published by Tundra Books
I have the good fortune to share read alouds with children regularly in my classes. I always look for engaging stories that will hook my students. Sometimes I am lucky enough to find a book that doesn't just hook the kids – some books have children talking about the story a week later and begging for a reread. Zero Kisses for Me
is one of those delightful books that children love to see, listen to and cheer about.
Life is tough when you're "always being kissed." When you're kissed before you go out in the rain and when you're kissed and called, "Honeybunch" or "Flower Bud." By the end of the day, you can be "tired of being everybody's tootsy-wootsy… huggy-bear… kissy-snooks." You might even demand, "No more mush!" And, you might exclaim, "BLEAH" – the perfect word to make a story memorable and a great word for young children to hear and relish.
Fun illustrations add to the atmosphere in Zero Kisses for Me and convey the little bear's determination and frustration beautifully. A great read aloud for boys and girls, aged four to six, especially those who enjoy many, many kisses each and every day. Although not a Valentine's Day book, this would be a terrific choice to reach for on February 14th.
Zero Kisses for Me at Amazon.com
Zero Kisses for Me at Amazon.ca