And Tango Makes Three – Celebrate Family Diversity with Roy and Silo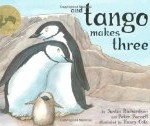 And Tango Makes Three
Written by Justin Richardson and Peter Parnell, illustrated by Henry Cole
Roy and Silo are male chinstrap penguins at New York's Central Park Zoo. They love each other very much and make a nest together. Sadly, Roy and Silo do not have an egg to keep warm. One day their keeper decides to give them an egg that needs protection. Many days pass, Roy and Silo attend conscientiously to the precious egg. At long last the shell cracks and baby Tango arrives. Together, Roy and Silo become fathers. Based on true events, And Tango Makes Three
is charming and thoughtful. Highly recommended.
Best for ages 4-8
New York Times article about Roy and Silo from 2004
And Tango Makes Three at Amazon.com
And Tango Makes Three at Amazon.ca
You may also be interested in our page titled "Diversity." We highlight picture books and chapter books that celebrate and inform us about human diversity including learning disabilities, physical disabilities, allergies, single parent families, interracial families, same sex parents, aging, death and more.
Don't miss our page of quotes about diversity.