My Secret Bully – Emotional Bullying at School and on the Playground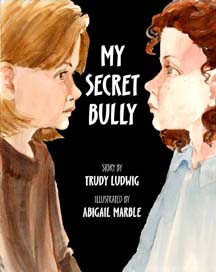 My Secret Bully written by Trudy Ludwig and illustrated by Abigail Marble
Anti bullying picture book published by Tricycle Press
"It all started a few months ago, during school recess. I noticed Katie whispering to a group of girls and looking at me. I went up to them and asked Katie what they were talking about. She said, "Oh nothing, Mon-ICK-a. I'll tell you later." then some of the other girls giggled like it really was something, and that made me feel bad."….
"Things didn't get any better after a while. in fact, they got worse. Much worse. It got to the point where no one would play with me at recess."
My Secret Bully
explores "relational aggression" or "emotional bullying." In this instance, the relational aggression includes exclusion, humiliation and manipulation. Katie bullies Monica until no one is willing to play with her at recess. Monica is bewildered by her 'friend's' behaviour and worries that something is wrong with her. When she finally confides to her mom, she says, "She's really nice to me when we're playing alone, but really mean to me when we're around other people."
Monica's mom is a great listener. She acknowledges that this will be a difficult problem to overcome and then she suggests some role-playing. Monica practices some ways to respond to Katie and is ready when faced with Katie's whispers. Resisting a fairy tale ending, My Secret Bully provides a reasonable resolution that empowers Monica to find new friends and to enjoy her time with them.
Suitable for children five and up, My Secret Bully offers all sorts of extra materials including a forward by Susan Wellman, founder of The Ophelia Project, notes for parents and teachers, suggestions for what to do if you are a target, discussion points, additional resources, websites, recommended readings and a list of ten ways to be a better friend.
My Secret Bully at Amazon.com
My Secret Bully at Amazon.ca