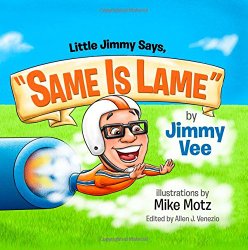 Little Jimmy Says, "Same Is Lame" written by Jimmy Vee and illustrated by Mike Motz
Antibullying picture book about embracing differences published by Atlas Press
"What is the difference between an obstacle and an opportunity? Our attitude toward it. Every opportunity has a difficulty, and every difficulty has an opportunity."
― J. Sidlow Baxter
in this semi-autobiographical new picture book, marketing expert, magician, author and ventriloquist Jimmy Vee explains why being different is much more interesting than living an ordinary existence.
Because I am different, it makes me feel proud. I'd rather stand out than blend in with the crowd.
Citing many examples of physical features, Vee encourages young readers to celebrate their appearance and abilities while acknowledging the fact that they are not like everybody else.
Upbeat, rhyming text and bright, colorful cartoonish illustrations depict wearing glasses, baldness, wearing braces, having a large nose, freckles, an unusual voice, being a different height than your peers and having a facial scar. Young readers, especially with encouragement from adults, are invited to think about ways differences can be exploited and can ultimately be perceived as assets.
Little Jimmy Says, "Same Is Lame" at Amazon.com