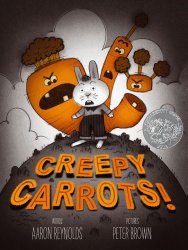 Creepy Carrots written by Aaron Reynolds and illustrated by Peter Brown
Outstanding picture book published by Simon & Schuster Books for Young Readers
Terrific fun for children aged five years and up, Jasper Rabbit is very fond of carrots and makes a trip to Crackenhopper Field whenever he fancies eating a few delicious treats but one day Jasper has an eerie feeling that Creepy Carrots are following him as he leaves the field. Soon Jasper is seeing Creepy Carrots everywhere: in his house, in the garden shed and on the street. Poor Jasper is petrified! He knows exactly what to do to solve this problem.
Preschool and kindergarten teachers will find all sorts of wonderful (and orange) ways to extend the learning with this delightful book. Whether designing their own carrots or a different solution to Jasper's problem, this book is sure to inspire fun. Muncha! Muncha! Muncha!
would be an excellent companion story.
2013 Randolph Caldecott Medal Honor Book
ALA Notable Book of 2013
2013 Society of Children's Book Writers and Illustrators Crystal Kite Award Winner (Midwest)
Coloring pages (free PDF download) from Peter Brown's webpage
Flannel Friday: Flannelboard and Template
Creepy Carrots! at Amazon.com
Creepy Carrots! at Amazon.ca
The Creepy Carrots Zone from Peter Brown on Vimeo.