Bully by Laura Vaccaro Seeger shares a simple antibullying message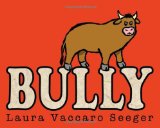 Bully written and illustrated by Laura Vaccaro Seeger
Antibullying picture book published by Roaring Brook Press
Before we reach the title page of Bully, we witness a large bull speaking harshly to a young bull. He tells him to, "GO AWAY"
The young bull does go away. He goes to a different part of the pen where three friends invite him to play. Rabbit, Chicken and Turtle are stunned when he loudly shouts, "NO. Their shock and disappointment is only made worse when the young bull starts name-calling.

Finally a brave billy goat speaks up and correctly labels the young bull a "Bully." Bull is shocked to realize that he has been bullying the other farm animals. After pausing to reflect, he apologizes to his friends and asks if they will play with him.
There is much to notice and enjoy in Bully. Young readers will certainly note the young bull's body language and size when bullying the other animals as opposed to when he realizes his mistakes. Ms. Vaccaro Seeger has depicted his blazing eyes and set jaw beautifully. His anger and frustration is clear.
We also see Bull's remorse when he realizes his mistakes.
Bully invites discussion about what might cause bullying behavior as well as how the decision to speak up can make a difference. highly recommended for children aged four and up.
Bully at Amazon.com
Bully at Amazon.ca