Bully by Patricia Polacco – Anti Bullying Picture Book for Older Readers
Storytime Standouts recommends Bully by Patricia Polacco, a thoughtful examination of middle grade bullying and cyber bullying. Bully is an excellent anti bullying picture book for older readers and a valuable resource for middle grade classrooms.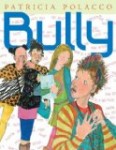 Bully – written and illustrated by Patricia Polacco 
Anti bullying picture book for older readers published by G.P. Putnam's Sons An Imprint of Penguin Group (USA) Inc.
When Lyla's family moves house, she and her brother each switch to new schools. Lyla feels anxious about the transition but soon meets a new friend and is very happy to discover that he is in her homeroom class. Jamie and Lyla get along well so Lyla is not isolated but before long she discovers the many cliques at her new school: Geeks and Nerds, Toughs, Skateboarders, Athletes and the Celebrities.
As Lyla gains confidence at her new school, she starts to earn some very good grades and a spot on the cheerleading team. Jamie warns her, "That's Gage, Maeve and Kenyon's territory, Lyla. Be careful!"
Lyla settles in to her new class and appears content but she does notice that almost all of her classmates have cell phones. Jamie urges her to get a cell phone, a laptop and a Facebook account. Soon Lyla and her brother are trying to convince their parents to allow them to have phones. Their parents agree but warn that, if not used properly, the online privileges will be lost.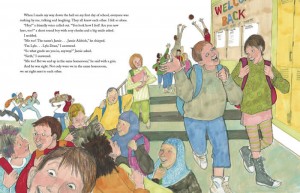 Jamie helps Lyla and her brother to set up their Facebook accounts and Lyla takes pride in their friendship and his position of trust at school.
Gage, Maeve and Kenyon were actually starting to be nice to me. I wasn't good enough to sit at the celebrity table, though, until the Mid-Year Awards Assembly…Gage usually got this award, but she seemed really happy that I got it. That's when she invited me to sit with them at the celebrity table at lunch..
Initially, Lyla finds the attention from the coolest girls exciting – she so wants to enjoy their popularity. The friendship sours, however, when the girls spend time surfing Facebook and commenting on classmates' pages. They call this "scum dumping." Lyla knows the bullying behavior is wrong and is especially upset when horrible comments are made on Jamie's Facebook page. Lyla's friendship with the Celebrities ends when she stands up for Jamie but the girls warn her, "No one dumps us, Lyla. We do the dumping."
Sadly for Lyla the bullying does not end there. When an important test is compromised at school, Lyla is wrongly accused of stealing it and she becomes a victim of cyberbullying.
Bully is an excellent anti bullying picture book for older readers and a valuable resource for middle grade classrooms. Ms. Polacco's depicts a racially diverse student population. As well, she presents a realistic and complex social situation without lecturing. She invites her readers to consider the question, "What would you do?"
Bully at Amazon.com
Bully at Amazon.ca
PDF Curriculum Guide to Ms. Polacco's books (does not include Bully)