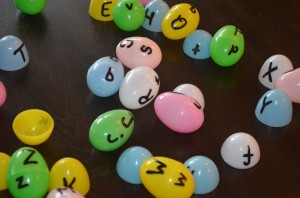 Children enjoy matching upper and lower case letters with this fun activity
This is a great time of year to pick up the makings of an inexpensive, colourful learning aid – at your neighbourhood dollar store. Easter merchandise is starting to appear and we want the multi-coloured two-part Easter eggs. Normally these are filled with candies but we are going to do something altogether different. We are going to use a permanent ink pen to print an upper case letter on one half of an egg and and the corresponding lower case letter on the other half. Children really enjoy searching through the 'broken' eggs. matching upper and lower case letters, ultimately assembling twenty-six whole eggs. I like the activity because using five or six colors makes finding a match fairly easy and also makes the activity somewhat self-checking.
For older children, compound words, rhyming words or antonyms could be used.
For more ways to help children learn the alphabet, check out our fee alphabet printables and our page about alphabet recognition.
A word of caution: This activity is not intended for children younger than age 3. Also, to ensure the activity is safe, please use eggs that are large enough to eliminate a risk of choking. The U.S. Consumer Product Safety Commission has determined: 'Any ball with a diameter of 1.75 inches (44.4mm) or less that is intended for use by children younger than 3 years of age is banned.' This is an excellent guideline – please check the size of the eggs before purchasing them.
Some of our Most Popular Alphabet Recognition Posts
Hover over the photo for a description of the activity. Click on the photo to read the full post
We invite you to follow Storytime Standouts' Alphabet Craft Board on Pinterest
Follow Storytime Standouts's board Alphabet Crafts on Pinterest.