Finding a Balance – Looking at a Child's Reading Level and Maturity When Selecting Books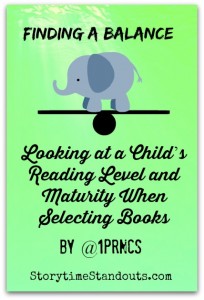 As a teacher and a mom, I want to see kids succeed. I want to see them achieve success and push past it to the next level, particularly in reading. When getting kids to fall in love with reading you have to keep a couple things in mind:
a) You have to (help them) find books that interest and appeal to them
b) You need books that they can read and understand independently without frustration

Once you have done both of these things, the chances of success in reading, and in turn, the love of reading, increase greatly. My favourite moment is when it clicks~ they understand what they are reading and they want to read more. It's been an absolute pleasure to watch our eight year old develop not only a love of reading and books, but to become a strong reader. However, she is now reaching a difficult stage; one I didn't expect to encounter even though I have watched her excel in reading. What happens when children know what interests them but what they are capable of reading academically and independently surpasses what they should be reading emotionally?

Striving for independence, my daughter recently convinced me to let her go to our school book fair alone, with her own money to make her own choices (By on her own, I mean I didn't go into the book fair with her but since I work there, I was close by). When she showed me what she had chosen, I knew I was stuck with a dilemma. She had chosen a book that dealt with adolescent friendship, middle school, and a crush on a boy. She used my 'a/b' theory and found something that appealed to her and was within her reading range. For some kids though, like my daughter, what she is able to read and what she should be reading are two entirely different things.
While we are ecstatically proud that she is reading at a grade six level in grade two, it does present some problems, even if the grade level and ability level gap is smaller.

An author's goal is to speak to their audience; to engage and captivate them. They build their plots and characters based on their (anticipated) audience. Therefore, an author writing books for the typical grade two/three student would appeal to their developmental stage. Some great books in this age range (at least for my girls) are the

Daisy Meadows Rainbow Fairies collections, the Nancy Drew Clue Crew series, or the Bailey School Kids. These books appeal to this audience with their age appropriate characters solving problems, working on mysteries, and going up against mythical or magical figures. In grades two and three, the problems our kids are facing (hopefully) include getting out for recess fast enough, snagging one of the three skipping ropes available, or not being it for tag. It'd be nice if problems could stay this simple, but they don't and as kids mature, so do the books that appeal to them.
A grade six student, by contrast, is caught up in an entirely different world that includes best friends that come and go, crushes on boys, and dealing with self-image. Accordingly, books that appeal to this age range deal with these issues. Coming of age classics like Little Women by Louisa May Alcott or Are

you there God? It's me, Margaret by Judy Blume perfectly highlight some of the trials girls this age face. And while I truly want my daughter to read these books, or even the one she chose from the book fair, I'm not ready for her to wonder about these 'issues'. So, I'm faced with deciding whether or not to let her read books past her maturity level to accommodate her ability level.

I suppose it's like anything else with parenting; I take a look at her choices and make the best judgement call I can. For me, I'm hoping that keeping the conversation doorway open is the answer to finding balance. Discussing what your child is reading is a key to helping them develop as fluid readers. So, while I don't want her to have a crush on a boy, I'm fine (so far) with explaining what it means and talking to her about the issues her characters are facing. Perhaps it's a plus that right now she's hooked on the Goddess Girls series by Joan Holub and Suzanne Williams. I don't think I'll have to worry about any boys from the Underworld popping up with their three headed dog any time soon.