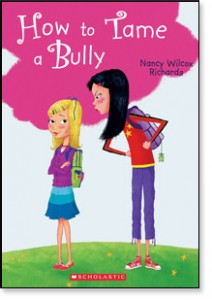 Storytime Standouts looks at anti bullying fiction for primary-aged children
How to Tame a Bully written by Nancy Wilcox Richards and illustrated by Drazen Kozjan
Anti bullying chapter book published by Scholastic
Lauren is excited to begin grade three. She is thrilled with her teacher and delighted to be in a class with her best friend. Lauren's happiness dims quickly when she discovers that she is seated next to Bethany.
Bethany is a giant. She is almost as tall as Ms. MacArthur. And that's when she's sitting down… Her eyes are always moving. Watching everyone. I know what she is doing. She's looking for her next victim. Someone she can force to do her homework. Someone she can beat up.
It is not long before Lauren and Bethany tangle. Bethany writes a message about Lauren on a washroom mirror and Lauren responds by giving Bethany a snack tainted with far too much salt and pepper. Bethany calls Lauren "Shrimp", extorts recess snacks from her and splatters red paint on her new top.
When forced to work together on a school project, Lauren reachers her breaking point. She tells Bethany to stop calling her "Shrimp" and is surprised when Bethany agrees. They manage a temporary cease-fire while working together on their project but it is not until Lauren speaks up again that the relationship improves.
"Because you're always bullying kids."
Bethany stared back at me. Hard. Her eyes narrowed. But before she had a chance to say anything and before I ran out of courage, I continued. "You took some little grade one kid's lunch money. You put gum on Rachael's seat and she ruined her brand new pants. You threw a big rock through the gym window. And," my voice started to get louder, "you keep taking my recess snack! That why you don't have any friends. Bethany, you are just plain mean!"
Rather than resolving the bullying with an unrealistic "magical solution," author Nancy Wilcox Richards has the girls work out a truce. Bethany's bullying tactics subside and the girls learn to tolerate each other.
Last year, in our post titled Five Ways Young Children Can Say "No" to Bullying , we referred to Health Canada's suggestion that one way to reduce bullying is to ask the bully to stop – a tactic that is used with success in How to Tame a Bully.
Suitable for readers in grades two or three, How to Tame a Bully is a 75 page, generously illustrated chapter book that encourages speaking up against bullying.
How to Tame a Bully at Amazon.com
How to Tame a Bully at Amazon.ca