Jake Drake offers readers ways to deal with bullying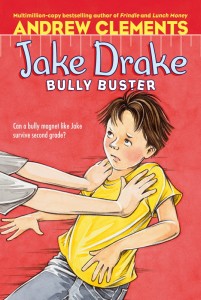 Jake Drake Bully Buster written by Andrew Clements
Anti bullying chapter book published by Aladdin Paperbacks, Simon and Schuster
If everybody who works at school is so smart, how come they can't get rid of the bullies? How come when it comes to bullies, kids are mostly on their own?
From the time he was in daycare, Jake Drake has encountered bullies of one kind or another. When he was three, a bully not only stole his cookies, he forced him off the swing. In kindergarten, Jake knicknamed another bully "King Bump" because he would shove him at inopportune moments. When Jake was a little older, he encounted yet another sort of bullying: the grade one bully liked to hit things near to Jake. Jake lived in fear of "The Fist."
Jake has given bullying considerable thought. He has decided that he attracts bullies because of his size (he is not too big), the fact he does not have an older sibling, his unwillingness to tattle and the intellectual challenge he represents.
Jake is excited to start grade two and all is well until Link Baxter joins the class. Initially Link torments Jake by shaking his desk during a handwriting lesson. Classroom trouble soon moves to the school bus and Jake is understandably upset by the time he arrives home from school. His younger sister Abby encourages Jake to think about the bully. She points out, Its not fun to feel mean.
Overnight Jake strategizes and decides to "play it cool." He will not react to Link's taunting and teasing. He will not show Link that he is bothered. Jake's plan works until Link takes his bullying to another level and pours water on the front of Jake's pants. Jake is so angry that his hits his enemy, is sent to the office and must rethink his strategy.
Jake Drake Bully Buster will have considerable appeal for both boys and girls. Author Andrew Clements' approach, having Jake reflect on all the bullying he has experienced and trying different responses, is very effective. Readers will recognize bullying techniques and will learn a variety of ways to effectively deal with bullying.
Jake Drake Bully Buster is an 80 page, illustrated chapter book that is best suited to children in grades two to four. There are four titles in the Jake Drake series.
Post reading questions and activities from WITS The WITS Program brings together schools, families and communities to help elementary school children deal with bullying and peer victimization.
Jake Drake, Bully Buster at Amazon.com
Jake Drake, Bully Buster at Amazon.ca