Emergent Readers Captivated by Drama and Mystery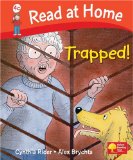 Check out this series for emergent readers
I spent a fair amount of time in a dentist's chair today and was reflecting on my recent experience with a grade one student. I've been working with him for a while. His older brothers have had some difficulty with reading so I spend half an hour, once a week with this youngster. Yesterday he read from the Oxford University Press Read at Home series. He is familiar with these books and knows the characters; Floppy, Chip, Kipper and Biff.
During our session, I suggested he try one of the Level 4 stories. He eagerly selected, Trapped! text by Cynthia Rider, illustrations by Alex Brychta. It was delightful to hear him read confidently but what was even more special was his reaction to the book. Clearly, he saw this story as different from others he has read independently. There was more text – about three sentences per page. There were letters and hidden keys to locate within the illustrations. But, most surprising, there was drama – when Grandma was briefly trapped in a castle – and mystery – why was there face at the castle window?
My emergent reader was thrilled to read Trapped – he likened it to the kind of books his older brothers read. He felt competent, confident and intrigued. If only all books for young readers could replicate this winning combination.
The Oxford University Press Read at Home series is excellent from beginning to end and includes dozens of great titles for emergent readers.
Read at Home: More Level 4c: Trapped! at Amazon.com
Read at Home: More Level 4c Trapped! at Amazon.ca
Read at Home: Level 4, Pack of 6 at Amazon.ca
What is your favorite series for readers at this level? Please share your ideas and suggestions.