No Pets Allowed – Matthew and Fred Will Win You Over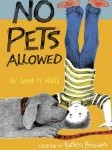 No Pets Allowed
Written by Irene N. Watts and illustrated by Kathryn E. Shoemaker
Generously illustrated chapter book published by Tradewind Books
When eight-year-old Matthew and his mom move from their rural home to the West End neighborhood of Vancouver, Matthew is forced to leave his beloved dog behind. Matthew's grandparents will care for Lucky as he and his mom establish themselves in a downtown apartment building that does not allow pets. Matthew begins school and tries to adjust to city life but he misses his pet terribly. He is hopeful that, before long, they will move again and be reunited with Lucky.
One night, after settling for sleep, Matthew hears a familiar sound; he is sure there is something under his bed. Moments later, he feels a rough tongue, licking his cheek. Some refer to 'Fred' as an imaginary dog but, for Matthew, he is very real indeed. It is not long before the apartment landlord is convinced that Matthew is hiding a pet in the apartment.
This generously illustrated, eleven chapter book will be thoroughly enjoyed by boys and girls aged seven to nine. I particularly appreciated the realistic portrayal of the relationship between Matthew and his mother; Matthew wanting Lucky to live with the family, his mother unable to find an apartment that will allow the dog. Her nervousness in dealing with an wary apartment manager and the compassion of neighbors all contribute to making No Pets Allowed a good choice for young readers.
No Pets Allowed at Amazon.com
No Pets Allowed at Amazon.ca