Wasim One Star by Chris Ashley Glitters Brightly for Primary Grades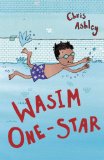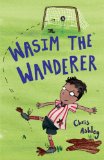 Having finished reading The Alchemist's Dream, I decided to take a look at some chapter books for younger readers. this week I read three books and enjoyed them all. Let's begin with…
Wasim One-Star written by Chris Ashley, illustrated by Kate Pankhurst
Chapter book for primary to middle grade readers published by Frances Lincoln Children's Books
Wasim can hardly wait to pass a school swimming test and become a One-Star swimmer. Unfortunately, on the day of the test, Wasim finds himself in trouble. His concern for a new classmate whose English is not good causes him to speak more loudly than he should. Wasim is heartbroken when he is sent (untested) to the pool changing room because of his loud voice.
Wasim's concern that Wayne's poor English could cause him to get into difficulty is justified. Fortunately, Wasim is watching and responds quickly when Wayne gets in over his head.
Wasim is a great character – in fact, I'd call him a 'rising star.' His desire to pass the swimming test and his concern for a classmate are both genuine and admirable. I particularly liked the dynamics between the students, the swim instructor and the teachers. Recommended for boys and girls, aged 6 and up.
Wasim One-Star at Amazon.com
Wasim-One Star at Amazon.ca