Grade Two Chapter Books – Why Nate is Really Great
When looking for a special grade two chapter book, you can't go wrong with Nate the Great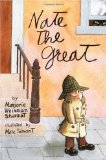 Nate the Great written by Marjorie Weinman Sharmat and illustrated by Marc Simont
Published by Yearling
Nate likes pancakes and syrup almost as much as he enjoys solving a perplexing mystery. Nate and his canine sidekick, Sludge, are called upon to solve all sorts of cases; locating lost paintings, disappearing dogs and, in one case, a missing key.
With an appearance that is often reminiscent of Sherlock Holmes, Nate is all business – except if pancakes are on the menu. Along with Annie and Rosamond, our hero cracks each case with solid detective work.
Nate the Great is a series that has been delighting young readers for more than thirty years. Suitable for children who are reading at about a grade two level, some of the stories are divided into chapters. Generously illustrated, the text is perfect for young readers who are ready to take on a meatier story (than typically found in easy readers).
Series like these are great because beginning readers often decide they want to read every single one of the Nate the Great books. This is just what we want, a child who is motivated to read by fun stories and a delightful cast of characters.
Nate the Great at Random House includes printable activities plus author information.
TeacherVision Nate the Great summarizing activity
Nate the Great at Amazon.com
Nate the Great at Amazon.ca