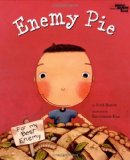 Enemy Pie written by Derek Munson and illustrated by Tara Calahan King
Published by Chronicle Books, LLG
When Jeremy Ross moves into the neighbourhood, it spoils an otherwise perfect summer. He joins the baseball team and laughs when another baseball player strikes out. He has a party but doesn't invite everyone to enjoy his trampoline. Perhaps without realizing what he has done, Jeremy creates an enemy.
Fortunately, Dad knows exactly how to deal with enemies. He has special recipe for Enemy Pie. The recipe is secret "Enemy Pie is the fastest known way to get rid of enemies."
Listening to Dad prepare the recipe is almost thrilling… "Enemy Pie was going to be awful. I tried to imagine how horrible it must smell, or worse yet, what it would look like."
While the pie cools and anticipation mounts, it is time to take the next step: the enemies must spend a day together. They ride bikes, jump on a trampoline, eat lunch and play basketball together. As time passes, something rather unexpected happens: Jeremy Ross undergoes a transformation. Spending time with him is not really a bad experience! As their day together comes to an end, the two boys enjoy a macaroni and cheese dinner and then it is time to serve up Enemy Pie.
It was at this point that I panicked. I didn't want Jeremy to eat Enemy Pie! He was my friend! I couldn't let him eat it!
Enemy Pie is very well suited to a group setting. It invites extension activities (possibly including baking or cooking) and encourages discussion about ways people become friends and how first impressions may not be accurate. Enemy Pie also shows a very positive father/son relationship. The cheery illustrations enhance the story nicely.
Best suited to children aged four and up.
The Enemy Pie website includes anti-bullying lesson plans and writing activities.
Enemy Pie (Reading Rainbow book) at Amazon.com
Enemy Pie at Amazon.ca
If you love picture books, you'll want to visit Susanna Leonard Hill's Perfect Picture Books.