The Higher Power of Lucky and Talking Openly About the Science of Sex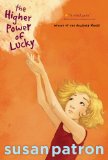 In our household, it is not at all unusual for us to talk about sex at the dinner table. Don't get me wrong, my husband and I don't share intimate details of our relationship, but we do talk about the science of sex with our two sons. We use anatomically correct vocabulary. We answer questions, we share facts and our values. We have always operated this way and can't understand why more people don't.
Talking openly about the science of sex is one way to protect children from abuse, disease and unwanted pregnancies. When we talk with our children, we pave the way for our children to talk openly with us.
The Higher Power of Lucky written by Susan Patron
Juvenile fiction / chapter book published by Simon & Schuster Richard Jackson
There has been an uproar over Newbery Medal award winning chapter book, The Higher Power of Lucky because of a reference to a dog's scrotum. (New York Times Column: With One Word, Children's Book Sets Off Uproar )
I have had the pleasure to read the entire book and would have no hesitation in sharing it with either of my children.
On the first page of the book, Lucky secretly overhears Sammy relate his "rock-bottom" story… "he saw a rattlesnake on the passenger sear biting his dog, Roy, on the scrotum…"
Ten-year-old Lucky has no idea what a scrotum is and, sadly, trusts no one enough to ask. The significance of this is made more poignent when we learn more about Lucky's circumstances: her mother died in an accident and her father has abandoned her. Lucky fears that her guardian is about to leave her and force her into an orphanage many miles from where she now lives. She fervently hopes she can find her Higher Power before hitting her own personal "rock-bottom."
For those who understand that giving children scientific names for body parts is not sexy or sexual – award winning chapter book, The Higher Power of Lucky presents no threat. Read it and enjoy the wonderful characters, the dangerous desert setting and Lucky's joy in finding her Higher Power.
The Higher Power of Lucky won the 2007 Newbery Medal
– See more at: http://books.simonandschuster.com/Higher-Power-of-Lucky/Susan-Patron/9781416901945#sthash.CWSHyn4Y.dpuf

The Higher Power of Lucky at Amazon.com
The Higher Power of Lucky at Amazon.ca