Christmas Picture Books – Carolyn's List of Favourites

I can't imagine the Christmas holidays without our special collection of Christmas picture books. Earlier this month, Jody shared her favourites. I have finally put together my own post. Jody and I both love The Night Before Christmas by Clement Moore, illustrated by Christian Birmingham and read it on Christmas Eve. I decided to write about a different version of the poem and mention that reading the same text with different illustrations is great for youngsters. It encourages taking a thoughtful look at the illustrations and making comparisons.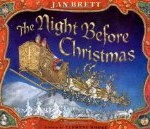 The Night Before Christmas illustrated by Jan Brett
Christmas picture book published by Putnam Juvenile
This version of the classic Christmas poem is filled to the brim with wonderful extras. Each beautiful two-page spread is framed with details that might otherwise never be seen. As reindeer are prancing and pawing on the roof, we get a glimpse of some special tree ornaments, Santa Claus appears in the fireplace and anxious Pa quickly descends the stairs.
Fans of Jan Brett's work will want to visit her website and discover an abundance of printables including coloring sheets and cards.
The Night Before Christmas illustrated by Jan Brett at Amazon.com
The Night Before Christmas illustrated by Jan Brett at Amazon.ca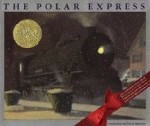 The Polar Express written and illustrated by Chris Van Allsburg
Christmas picture book published by Houghton Mifflin
Long before The Polar Express was made into a movie, it was a Caldecott Award winning Christmas picture book. When a friend says, "There is no Santa," a young boy hopes desperately that his friend is incorrect. On Christmas Eve, he goes to bed and listens intently for the sound of sleigh bells. He does not hear sleigh bells but rather hissing and clanging. He looks out his bedroom window and is amazed to see an enormous train, waiting outside his house.
A magical story, The Polar Express will encourage children and adults to believe in the magic of Christmas.
The Polar Express at Amazon.com
The Polar Express at Amazon.ca