Grade Three Reading – What if You've Made it to Grade 3 and Can't Read?
Whether your child struggles with grade three reading or not, this is an enjoyable, generously illustrated chapter book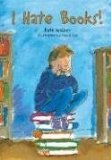 I Hate Books! written by Kate Walker
Generously illustrated chapter book published by Cricket Books
Hamish is blessed with a Grandpa who reads aloud "with lots of expression". When Hamish was little, he loved books but the love affair ends when he begins grade three reading and his teacher asks him to read aloud. Before long, Hamish is referred to a reading specialist and it is confirmed that he has been making up stories rather than reading the words on the page.
After struggling with flash cards and remedial reading, Hamish decides that life will be fine – whether he learns to read or not. It takes a disastrous family road trip, an embarrassing birthday party and a persuasive older brother to change Hamish's mind.
Happily, Hamish overcomes his struggles and eventially earns a prize for "most improved reader."
Shortlisted for the Australian Children's Book of the Year and the Young Australian's Best Book Awards, I Hate Books! features relatively short chapters and very appealing illustrations. At about a grade three reading level, it is recommended for children aged seven to nine.
I Hate Books! at Amazon.com
I Hate Books! at Amazon.ca