Highlighting Young Adult Fiction: Paper Towns by John Green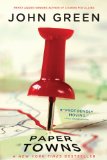 Paper Towns by John Green
Young Adult Fiction published by Dutton Books, a member of Penguin Group (USA) Inc.
Quentin Jacobsen has spent his life loving the adventurous Margo Roth Spieglman from afar. So when she cracks open his window and summons him for an all night campaign of revenge- he follows. The next day, at school Q discovers that Margo, always an enigma, has become a mystery. But there are clues, and they're for him. urged down the disconnected path, the closer he gets the less he sees the girl he thought he knew…
This was the first of John Green's books that I have read and I am very impressed. The story is intriguing and well crafted, the characters interesting. Paper Towns involves the reader, you will find yourself puzzling at night as you try to unravel the mystery for yourself. And you will be laughing frequently for John Green writes with brilliant wit.
Paper Towns is Young Adult fiction that can be enjoyed by almost everyone. I defiantly recommend it as one of my favourites.
Anthony Award Nominee for Best Children's/Young Adult Novel (2009)
Corine – International Book Prize for Young Adult Novel (2010)
School Library Journal Best Book of the Year (2008)
Edgar Award for Best Young Adult (2009)
YALSA Teens' Top Ten (Young Adult Library Services, American Library Association) (2009)
Paper Towns at Amazon.com
Paper Towns at Amazon.ca