A Picture Book About Friendship: You by Stephen Michael King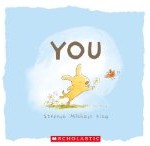 You written and illustrated by Stephen Michael King
Picture book about friendship published by Greenwillow Books
Light and breezy, You: A Story of Love and Friendship
has got it right. The world is more colourful, more musical and more exciting when shared with a true friend.
In this picture book about friendship, Happy and engaging illustrations invite us to watch as a friends work together to transform a drab birdhouse into a bright and inviting home. When the work is done, they joyfully play music together and manage to endure the highs and lows that life brings.
The world is an exciting place, with ups, downs, around and arounds, and far-far-aways. But the most exciting place in my world is with… you.
Well-suited to very young children, You is a picture book about friendship and love. It would be a great story to share before a parent or friend leaves on a trip.
Be sure to visit the author's website (link above) and read about Stephen Michael King's experience as a hearing impaired child and his path to becoming an author-illustrator.
You: A Story of Love and Friendship at Amazon.com
You: A Story of Love and Friendship at Amazon.ca