Picture a Tree by Barbara Reid

Picture a Tree – written and illustrated by Barbara Reid
Picture book about trees published by North Winds Press, an imprint of Scholastic Canada



Marvelous Plasticine illustrations may initially distract young readers from the thought-provoking text in Picture a Tree. Using a combination of Plasticine and paint, Ms. Reid has created beautiful, richly detailed images of trees and the variety of people living, working and playing near them.
Readers are encouraged to notice how trees, whether enormous or freshly planted, change through the year, how various creatures dwell in trees and how the life cycle of a tree can be viewed metaphorically. A variety of perspectives are also shown as Ms. Reid illustrates shadows of trees, more than one reflection and the view from above a forest of trees.
You may see a drawing on the sky. A game of dress-up. The first drops of colour then all the art supplies at once.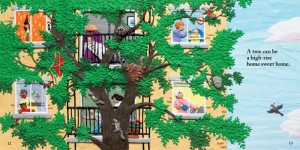 Simply beautiful, Picture a Tree is sure to inspire young artists and encourage environmental awareness. It is suitable for children aged four and up.
Update June 19, 2012 – Picture a Tree has been nominated for the Marilyn Baillie Picture Book Award
Picture a Tree at Amazon.com
Picture a Tree at Amazon.ca
Note, this is one of several YouTube videos that feature Barbara Reid and her artwork. Check her website or YouTube for additional resources.