The Hockey Tree is A Favourite Wintertime Picture Book
These days we are racing to meet all of my youngest son's sports commitments. He is playing on the high school basketball team and he also plays "rep" hockey. This year the regular season and his hockey team's Christmas tournament "collide." He has ten different hockey commitments between now and next Tuesday – and has turned down the opportunity to ref this week (thank goodness).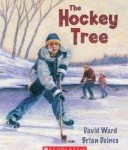 Hockey is definitely his first love and, over the years, we have enjoyed several picture books about hockey together. He's well past picture books now but I'm not.
The Hockey Tree written by David Ward and illustrated by Brian Deines
Picture book about playing hockey outdoors published by Scholastic Canada Ltd
In light of the busy week ahead, I thought I would take a moment to write about David Ward's The Hockey Tree. This is a favourite wintertime picture book that beautifully captures a Canadian winter day. Set in Saskatchewan, Owen and Holly are excited because Humboldt Lake has finally frozen over and it is a perfect morning for a spirited game of pond hockey. The two children are excited to drive to the lake with their dad and before long their skates are laced and the three are laughing and playing together. Unfortunately, just as the family starts to talk about taking a break and enjoying a mug of steaming hot chocolate, Holly smacks at the puck and it flies across the frozen lake and into an ice fishing hole.
The children are terribly disappointed that they've lost their puck and assume that the game will have to end. Dad is not quite so willing to concede. He helps Owen and Holly to find a fallen poplar tree near the lake. Once a suitable tree is found, dad saws a piece from the trunk to create a wooden puck and the hockey game resumes.
Brian Deines' luminous illustrations include icy cold winter scenes that are made warm by his depiction of the joy of playing a favourite sport with friends and family.
A lovely book to share with young children, this is one of my favourite wintertime picture books.