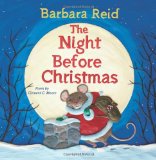 The Night Before Christmas written by Clement C. Moore, illustrated by Barbara Reid
Traditional Christmas poem published by North Winds Press an imprint of Scholastic Canada
Accomplished award-winning author-illustrator Barbara Reid rethinks Clement Moore's traditional poem, imagining a large family of mice bedding down on Christmas Eve. Home is a snow-caovered hollow log, filled with small treasures including coins, buttons, wooden blocks, nails, popsicle sticks and spools. Youngsters will be captivated by the family's repurposed home furnishings and the busy family. Poor Mama and Papa Mouse must be exhausted. As some their many children cavort in bunk beds, one reads a book under the covers and another hopes for a glass of water before going to sleep.
We like Ms. Reid's choice to leave the traditional poem untouched but to replace an oft-seen illustration of Santa smoking a pipe with one of him enjoying yummy candy-cane.
Barbara Reid's inventive take on The Night Before Christmas is one that will captivate children aged three and up. It will be enjoyed in a group read aloud setting but will be most appreciated by those who have a chance to carefully examine the wonderful illustrations created using Plasticine.
The Night Before Christmas at Amazon.com
The Night Before Christmas at Amazon.ca