Gummytoes by Sean Cassidy – Watch a tree frog step into the limelight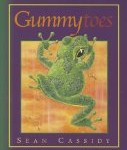 Gummytoes – written and illustrated by Sean Cassidy
Gummytoes is a tree frog who can change the colour of his skin and leap great distances. He longs to be admired so he steps into the limelight and amazes the neighbourhood children with his antics. The squealing youngsters respond by grabbing him and putting him into their terrarium. Before long Gummytoes
discovers that being the centre of attention is not all he had hoped. He is lucky. He is able to use his special qualities to escape and make his way home.
This is a story that will encourage readers to consider the impact of capturing creatures for display. In addition to entertaining youngsters, Gummytoes provides factual information about gray tree frogs. The book could be used to prompt discussions about animals that use camouflage, nocturnal animals, natural habitats of tree frogs and wild creatures living in urban areas.
Suitable for children aged 4-8
Gummytoes was shortlisted for the 2006 Syrca Shining Willow ( in the Best Picture Book category) and the 2005 OLA Blue Spruce (also in the Best Picture Book category). It was also a Canadian Children's Book Centre Our Choice selection in 2005.
Gummytoes at Amazon.com