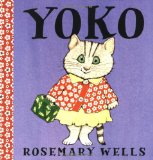 Yoko written and illustrated by Rosemary Wells
Picture book about teasing and acceptance
published by Hyperion Books for Children
When Yoko's mom packs her favourite things for lunch, Yoko happily boards the school bus and enjoys the morning with her classmates. At lunchtime,
Yoko opened the willow-covered cooler. Inside was her favourite sushi. Tucked in the rice rolls were the crispiest cucumber, the pinkest shrimp, the greenest seaweed, and the tastiest tuna.
When a classmate notices Yoko's lunch, he remarks, "What's in your lunch? … Ick! It's green! It's seaweed!"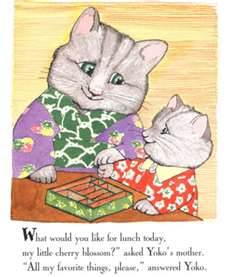 Poor Yoko, before long all of her classmates are laughing about the food in her lunch and she is heartbroken. Fortunately, her teacher, Mrs. Jenkins is alert to the problem and she devises a solution. She announces there will be an International Food Day at Yoko's school.
Sadly, on the day of the special event, all her classmates avoid Yoko's sushi. Finally, Timothy gives it a try. He loves the delicious sushi and he'd like to eat it again the following day. Yoko has found a friend. The following day, they push their desks together and enjoy a lovely lunch.
Yoko is a heartwarming picture book about teasing and acceptance. It lends itself well to discussions about tolerance and celebrating our differences. Yoko will appeal to children in preschool and kindergarten.
For fans of this book, Yoko also appears in Yoko's Show and Tell, Yoko Writes Her Name, Yoko's Paper Cranes.
Add this anti bullying picture book to your bookshelf –
Yoko at Amazon.com
Yoko at Amazon.ca
Watch Yoko