I'm Here by Peter H. Reynolds helps kids understand those with ASD

I'm Here written by Peter H. Reynolds
Written with a goal of encouraging children and adults to reach out, embrace, and appreciate children in the autism spectrum as well as anyone who is different from ourselves, I'm Here suggests that young readers rethink their ideas about a child who prefers solitude or who is not skillful at social interactions.
At recess, a young boy sits, by himself. The loud, playground voices are too much for him, I hear it all like one big noise. A big drum. Boom. Boom. Boom Boom.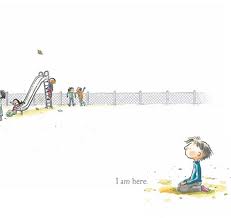 Sitting away from the crowd he feels the touch of the wind, notices a floating leaf. When a piece of paper lands near him, he knows, This is not where the paper wants to be." He folds the paper into an airplane and launches it heavenward. Soon, the young boy is flying in the plane, exhuberant at the adventure.
A thoughtful, metaphorical picture book, I'm Here explores themes of friendship and acceptance and encourages children to look for opportunities to smile and be a friend.
I'm Here at Amazon.com
I'm Here at Amazon.ca
April 2, 2012 is World Autism Awareness Day