Weeding and Organizing My Personal Library Isn't Easy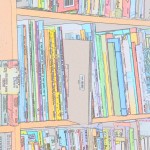 This year I am determined to find the best way to organize my personal library. At the same time, I hope to "weed out" a few titles. After all, there is only so much space I can devote to picture books – especially as my boys are now fourteen and sixteen.
But going on a "book diet" is no easier than reducing carbs or eating low fat. Most every book I pick up has a memory attached or has some redeeming qualities: I love the illustrations or the narrative promotes diversity and acceptance, the animals are charming or funny, the rhyme is clever or the lesson imparted is an important one.
After careful consideration, I finally think I have arrived at the perfect measuring stick for picture books: 'Will I want to read this book to my grandchild?" Of course, grandchildren are unlikely for the foreseeable future so the books that are permitted to "stay" need to have a timeless quality. Also, since I have no idea whether my grandchild will be a boy or girl, I will have to keep books for boys and books for girls as well as those that appeal to both. Since I don't know whether my grandchild will be an only child or one of many, books about family life and siblings are definite "must haves." Anything, anything that hints at a loving relationship between grandparent and grandchild will definitely stay.
At the moment, my personal library includes close to three thousand children's books, chapter books and young adult titles. I have it organized as follows:
Picture books (excluding seasonal) arranged alphabetically by author
Concept picture books (alphabet, counting, time, etc.)
Wordless and almost wordless picture books
Poetry
Seasonal and holiday picture books – arranged by month and then by title
Chapter books and young adult novels – arranged alphabetically by author
Easy Readers and books for emergent readers – arranged according to difficulty
Of course, this sounds really quite well organized but it fails to include the various "piles" that dominate my office floor, waiting to be read. It also ignores my "workshop" books which are always "at the ready" in easy-to-transport Rubbermaid totes.
This month, I am hoping to reread about one hundred of the picture books and decide which of them should stay on the picture book shelf but, then again, maybe I ought to tackle one of the "piles." At least the former books are currently on a shelf! If I deal with a "pile," I will have more floorspace and will feel just a tiny bit better about my ability to organize. I might actually "reduce" my library footprint.
Stay tuned as I work on this project throughout 2012 and post about it monthly.