My Brother Charlie, an Autism Picture Book, informs and Inspires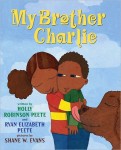 My Brother Charlie written by Holly Robinson Peete and Ryan Elizabeth Peete with Denene Millner, illustrated by Shane W. Evans
Autism picture book published by Scholastic Press
"Charlie has autism. But autism doesn't have Charlie."
My Brother Charlie is written from the perspective of Charlie's twin sister. She explains that she and her brother share many things. She also explains that there are some ways they are different.
"Charlie is skinnier and goofier than me.
He hates math.
When he looks at the sky, he finds jets and helicopters.
And sometimes my brother gets very quiet."
Charlie's sister explains how he was different as a baby and that the differences between the two twins caused his parents to be concerned. She explains, "It's harder for Charlie to make friends. Or show his feelings. Or stay safe. One doctor even told Mommy that Charlie would never say I love you." We learn that it can be difficult to be Charlie's sister and that she would love to be able to change him.
The story of My Brother Charlie is told candidly, respectfully and lovingly. It is an excellent book to share with children aged four and up. My Brother Charlie could be used to introduce a discussion about Autism or to encourage tolerance for those who may appear or behave differently.
My Brother Charlie at Amazon.com
My Brother Charlie at Amazon.ca