7 Winning Ice Hockey-Theme Picture Books with Free Printables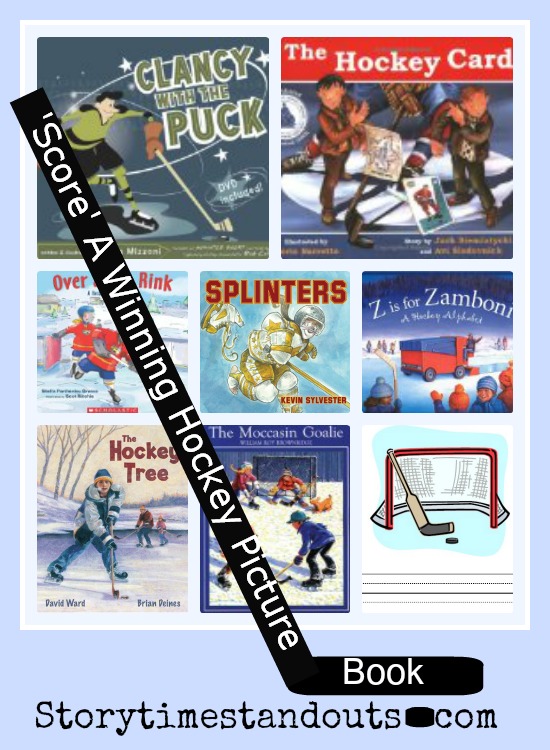 My youngest son has played hockey since he was five years old. For years, bedtime stories included books about playing hockey. Many of these stories include great messages about friendship, teamwork, bullying and working together toward a common goal.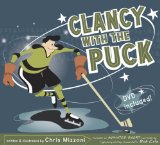 Clancy With the Puck written and illustrated by Chris Mizzoni
Hockey-theme picture book (adaptation of a traditional story) published by Raincoast Books
Just as Casey could hit a baseball, Clancy is a star when it comes to hockey. When Clancy Cooke joins the Hogtown Maple Buds, hopes are raised for a Stanley Cup win. Alas, in the final moments of a playoff game, when Clancy takes a penalty shot, "The puck deflected off the post, like a comet to the sky. The Buds had lost the Stanley Cup – and the fans went home to cry." A sure winner, especially for hockey fans and those familiar with the classic story of Casey at the Bat.
Clancy with the Puck at Amazon.com
Clancy with the Puck at Amazon.ca
---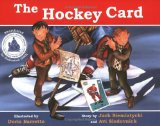 The Hockey Card Written by Jack Siemiatycki & Avi Slodovnick and illustrated by Doris Barrette
Hockey-theme picture book published by Lobster Press
When Uncle Jack shares the story of the best hockey card he ever had, we take pleasure in a glimpse of the great Maurice Richard and a schoolyard duel against a tough hockey card shark. This is a book that made a lasting impression in our household – my youngest son is now a 13 year old bantam hockey player and just noticed me working on this post. He remarked, "Now that was a good book."
The Hockey Card at Amazon.com
The Hockey Card at Amazon.ca
---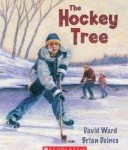 The Hockey Tree written by David Ward and illustrated by Brian Deines
Hockey-theme picture book published by Scholastic Canada Ltd.
This is a favourite wintertime picture book that beautifully captures a Canadian winter day. Set in Saskatchewan, Owen and Holly are excited because Humboldt Lake has finally frozen over and it is a perfect morning for a spirited game of pond hockey. The two children are excited to drive to the lake with their dad and before long their skates are laced and the three are laughing and playing together. Unfortunately, just as the family starts to talk about taking a break and enjoying a mug of steaming hot chocolate, Holly smacks at the puck and it flies across the frozen lake and disappears into an ice fishing hole.
The children are terribly disappointed that they've lost their puck and assume that the game will have to end. Dad is not quite so willing to concede. He helps Owen and Holly to find a fallen poplar tree near the lake. Once a suitable tree is found, dad saws a piece from the trunk to create a wooden puck and the hockey game resumes.
Brian Deines' luminous illustrations include icy cold winter scenes that are made warm by his depiction of the joy of playing a favourite sport with friends and family.
A lovely book to share with young children, this is one of my favourite wintertime picture books.
The Hockey Tree at Amazon.com
The Hockey Tree at Amazon.ca
---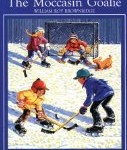 The Moccasin Goalie written and illustrated by William Roy Brownridge
Hockey-theme picture book published by Orca Book Publishers
Danny, Petou, Anita and Marcel live in a small, prairie town and they love to play hockey. They play road hockey when the weather is warm and ice hockey when the temperature cools and their outdoor rink is flooded. Everything changes when a new team is organized for their town. The four friends can't wait to be part of the fun. They are devastated when only Marcel is selected to play for the Wolves. Anita is refused a spot because she is a girl, Petou is considered too small for the team and Danny is refused a place on the team because his disability means that he cannot wear skates.
All three children are terribly disappointed to be left out but, as the end of the hockey season approaches, the Wolves' goalie is injured and the coach asks Danny to play.
The Moccasin Goalie is the first of a three book series. The Final Game is the second book. Victory at Paradise Hill is the third. Gorgeous illustrations – many using a pointillist technique – beautifully depict the joy of outdoor wintertime play. The story itself invites discussion of fairness, friendship and overcoming challenges.
Highly recommended for children five years and older.
The Moccasin Goalie at Amazon.com
The Moccasin Goalie at Amazon.ca
---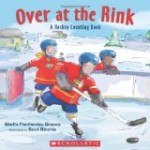 Over at the Rink – A Hockey Counting Book written by Stella Parthenhiou Grasso and illustrated by Scot Ritchie
Hockey-theme picture book (adaptation of a familiar song) published by Scholastic Canada Ltd.
Exuberant fun awaits in this hockey-theme adaption of Over in the Meadow. Young hockey fans will enjoy discovering all the elements of a great game – anthem singing, on ice- officials, a close score, players defending and scoring, earnest coaching, an enthusiastic mascot and excited fans. The wintry outdoor rink setting adds to the festive atmosphere.
Good fun for children four years and older.
Over at the Rink: A Hockey Counting Book at Amazon.ca
---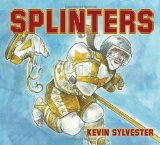 Splinters – written and illustrated by Kevin Sylvester
Hockey-theme picture book published by Tundra Books
Cindy loves to play hockey but it is an expensive sport to play and her family is poor.   Showing great determination and resourcefulness, Cindy is excited to finally earn enough money to join a neighbourhood team.  Unfortunately, at the rink, Cindy encounters three nasty Blister Sisters who make playing hockey very unpleasant. 
At her very first practice, she met the Blister Sisters. They could tell she was one good hockey player, and they were jealous.
They insulted her old equipment… Then they made her look bad on the ice… They could do this because their mom was the coach
Thank goodness Cindy has a fairy goaltender watching out for her. The fairy's magic provides Cindy with a dazzling new uniform, gleaming skates and a Zamboni – to transport her to the all-star team tryouts. Cindy rushes to the rink and does not disappoint – she is a star.
Knowing that the magic spell will end once the final buzzer has sounded, Cindy rushes away from the rink, leaving a shiny skate behind.
Coach Prince is determined to match the shiny skate to the player who wore it during the tryouts.
Coach Prince went from locker room to locker room, trying the skate on every girl she could find. Finally she arrived at Cindy's rink ensuring a happy ending for Cindy and her new team.
Splinters will have greatest appeal for children who are familiar with Cinderella. We love the idea of taking a familiar story, like Cinderella and retelling it with new characters and a contemporary setting. In a primary classroom, we suggest using Splinters as a jumping off point, inspiring young writers to imagine other situations for Cinderella to encounter.
Splinters at Amazon.com
Splinters at Amazon.ca
---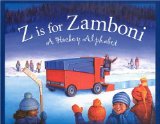 Z is for Zamboni – A Hockey Alphabet Written by Matt Napier and illustrated by Melanie Rose
Hockey-theme alphabet book published by Sleeping Bear Press
If hockey plays a part in your household, this enticing hockey alphabet book will appeal to the entire family. Young children will enjoy the simple rhymes while older children and adults will appreciate the more detailed information bordering the charming illustrations.
Z is for Zamboni: A Hockey Alphabet at Amazon.com
Z is for Zamboni: A Hockey Alphabet at Amazon.ca
---
Free Hockey-Theme Printables for Kids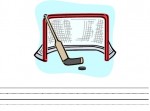 Hockey Theme Writing Paper for Kids

Hockey-theme interlined writing paper for penmanship practice and story writing.

Ice Hockey Picture Dictionary

Free printable ice hockey theme picture dictionary for readers and writers in kindergarten and grade one. Also great for English Language Learners.