Storytime Standouts Looks at a New Picture Book: The Hockey Song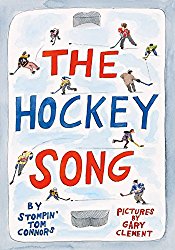 The Hockey Song written by Stompin' Tom Connors and illustrated by Gary Clement
Hockey-Theme Picture Book published by Greystone Books

OH! The good ol' Hockey game, is the best game you can name.
And the best game you can name, is the good ol' Hockey game.
An outdoor game of pick up hockey is the setting for this fun, energetic tribute to Stompin' Tom Connors' widely known anthem. The well-lit rink is in a city and it glistens beneath the stars on a wintry evening. It feels as though it would be the centerpiece of a community, drawing players from far and wide for a casual, drop in game.
Engaging illustrations show us the game from ice level and above, depicting players from various races who are young and old, petite and burly and male and female. It is fun to see more than one multi-generational family group; moms and dads enjoying the game with their children.
The game begins with just two players on the ice but soon swells and, by the end of the song, the rink is crowded with enthusiastic hockey players. Some wear familiar NHL-style jerseys while others are dressed less traditionally. Some wear hockey helmets and others have toques, headphones, pony tales and stocking caps. Young readers will enjoy playing eye spy and noticing all sorts of interesting details about the dozens of players who finish the game.
Very good fun for children aged four and up. The Hockey Song would be a great gift for a hockey-loving grandparent to share with a newcomer to the game.
The Hockey Song at Amazon.com
The Hockey Song at Amazon.ca