Secret World of Og by Pierre Berton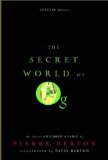 The Secret World of Og written by Pierre Berton
Middle grade fiction published by McClelland & Stewart
Many of you might remember this tale as one of your own childhood favorites; I do. It's been delightful to learn that this fun adventure story continues to entertain and engage audiences.
It's the tale of four children, Penny, Pamela, Peter, and Paul who they affectionately call Pollywog. They love to make believe and a trip through the floor of their playhouse leads them on an amazing journey to a place called Og.
Between the adorable humor and the endearing characters, the tale stays with you. When I read it to my daughter this summer, I had fond memories of reading it when I was only a bit older than her. My student teacher asked if she could read it aloud to our class because it had been a favourite of hers. The students are loving it and creating vivid comic strips that highlight the best parts of the book. We decided to do a bulletin board to display the comics and many of the adults at our school commented on how much they loved the book when they were little. It is simply one of those classics that any generation can relate to and enjoy.
The four children, each with their own unique personality traits, discover a hidden world under their playhouse, filled with all of the toys, clothes, and random items they thought they had lost over the years. They find themselves surrounded by small green people who only speak one word: "Og".
The children soon find out that the people of Og can use real words, but their style of speech resembles the comic books that the kids love. Somewhere along the way, the kids have left books out in the yard that have made their way down to Og. The result is a bunch of Og people living a parallel life to the four children. They all enjoy comics, make believe, and dressing up.
Some of my favourite parts of the book include the Pollywog's continuous jailbreaks, Earless Osdick (the cat that thinks it's a dog) being mistaken at the Og market as a rabbit, and Peter disguising himself as a little green man.
Published in 1961, it represents the meaning of "timeless tale". If you haven't read it before, or even if you have, it is worth the read.
The Secret World of Og at Amazon.com
The Secret World of Og at Amazon.ca
Check out this 1991 Front Page Challenge episode with Pierre Berton and his daughter, Patsy talking about the 30th anniversary of the book. Patsy illustrated the original version of The Secret World of Og.