Score with this Young Adult Mystery: Breakaway by Michael Betcherman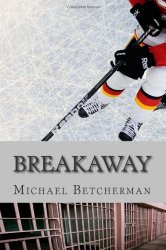 Breakaway written by Michael Betcherman
Young adult mystery published by Razorbill an imprint of Penguin Canada
Read our interview with Michael Betcherman
Those of you who visit our website regularly will know that I am a mother to two teenage boys and that one of my sons is a hockey player. Very often friends will comment about the challenges of encouraging teenage boys to read. We've been fortunate with our boys, they both enjoy reading and are good readers. Unfortunately, for some kids, it is not so easy. I often wonder if some reluctant readers simply have not found a book that matches their interests.
Last month, while on holiday, I had an opportunity to read Michael Betcherman's first mystery novel: Breakaway
. It was a finalist for the 2013 John Spray Mystery Award.
Set in the Lower Mainland of British Columbia, Breakaway tells the story of a 16 year old Midget hockey player whose father is wrongly convicted of murder. Nick Macklin's dad (a former professional hockey player) has been convicted for killing another former NHL player who once viciously cross-checked him in the head. and ended his playing career.
Nick is devastated by his father's conviction and is determined to uncover the truth but it is not an easy job. Nick's anger and disappointment with his dad's conviction results in problems at school, the loss of good friends and his involvement with minor hockey.
He remembered something his mother once told him. "Tragedy is part of life. It's going to happen whether you like it or not. The trick in life is get as much joy as you can." As long as dad was in jail, tragedy would be part of his life.
Bit by bit, as time passes, Nick begins to recover from the shock of his dad's conviction. He starts to focus more on his schoolwork, he becomes more social and he resumes playing hockey but his obsession with investigating the crime and finding the murderer does not falter.
Young adults, especially those who play hockey will enjoy Breakaway's hockey theme. The book references NHL, WHL and minor hockey teams, rinks and the dynamics of playing a sport at high level. At the heart, this is a story of loyalty and determination as Nick Macklin remains steadfast in his determination to uncover the truth.
Recommended for youth aged 14 and up.
Note: This book has been published with two different covers. The cover shown above is the American cover. This photo features the Canadian cover (adjacent to a rather nice pool).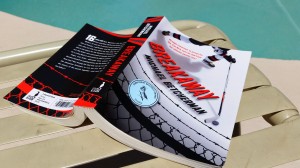 Breakaway at Amazon.com