Special Picture Books to Watch For
Today we'll look at three special picture books to enjoy with young children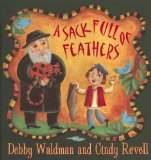 A Sack Full of Feathers
Written by Debby Waldman and illustrated by Cindy Revell
Picture book that explores social responsibility published by Orca Book Publishers
Young Yankel is a storyteller. He overhears bits of news at his father's store and excitedly shares the gossip throughout the village.
One day a wise rabbi gives Yankel a job; he is to put one feather on each doorstep in the village. Puzzled, Yankel willingly distributes the feathers even as gusts of wind send some flying.
When the rabbi subsequently asks Yankel to collect all the feathers and return them to the sack, Yankel comes to understand the danger of gossip.
A delightful folktale is retold in A Sack Full of Feathers with engaging illustrations and warmth.
A Sack Full of Feathers at Amazon.com
Sack Full of Feathers at Amazon.ca
Heave Ho!
Written by Heinz Janisch and illustrated by Carola Holland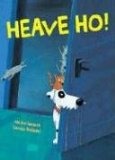 Imagine, a refreshing and surprising story told in just twelve sentences! Engaging illustrations introduce a cat, a dog and a trio of mice. Together, they take on a tricky job and discover they are 'up' to the challenge. Good fun.
Heave Ho! at Amazon.com
Heave Ho! at Amazon.ca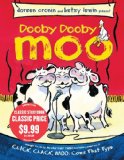 Dooby Dooby Moo
Written by Doreen Cronin and illustrated by Betsy Lewin
I hope you have discovered the not-to-be missed Caldecott Honor book, Click, Clack, Moo: Cows that Type. In Dooby Dooby Moo we once again encounter Farmer Brown and his irrepressible animals. With good cause, Farmer Brown is suspicious that something is going on behind the barn door. In fact, Duck is determined to win a trampoline in the upcoming Talent Show. He is busy organizing rehearsals of "Home on the Range" and "Born to be Wild." This book's a sure 'winner.'
Dooby Dooby Moo at Amazon.com
Dooby Dooby Moo at Amazon.ca