When my boys first ventured into reading grade one chapter books, they were delighted to discover Frog and Toad by Arnold Lobel. Featuring a wonderful friendship and many happy adventures, the Frog and Toad series has been a favorite with young readers for decades.
James Howe's latest book, Houndlsey and Catina is very reminiscent of the Frog and Toad series. Howe is famous for Bunnicula (Today Vegetables… Tomorrow the World). Houndlsey and Catina will appeal to younger readers who prefer shorter, generously illustrated chapters and less text. It will likely suit a child reading at a mid to late grade one level.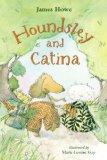 Houndlsey and Catina written by James Howe and illustrated by Marie-Louise Gay
Chapter book series for kindergarten – grade three published by Candlewick Press
Illustrated beautifully by Marie-Louis Gay, Houndlsey and Catina tells of Catina's desire to write a prize-winning book and Houndleys' wish to win a cooking contest. Together, they help us see that being friends "is better than being famous." This is a lovely tribute to friendship.
Houndsley and Catina at Amazon.com
Houndsley and Catina at Amazon.ca
The Frog and Toad Collection Box Set (I Can Read Book 2) at Amazon.com
The Frog and Toad Collection Box Set at Amazon.ca