Sir Cassie to the Rescue Celebrates Knights, Castles and Make Believe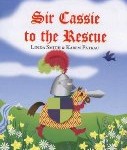 Sir Cassie to the Rescue – written by Linda Smith and illustrated by Karen Patkau
When Cassie reads a story about knights, the lure of the story prompts her to build a castle in her living room and enlist her brother to be a damsel. Her brother resists this role but does agree to be a fierce dragon. The entire family becomes involved in the make-believe fun until the queen announces a noontime feast has been prepared and it is time to clean up the castle.
A cheerfully illustrated picture book, Sir Cassie to the Rescue
celebrates make believe and play and will be enjoyed by children aged 4 to 8.

Sir Cassie to the Rescue at Amazon.com
Sir Cassie to the Rescue at Amazon.ca