How To by Julie Morstad Celebrates Play and Self Discovery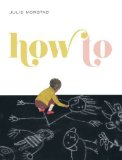 How To written and illustrated by Julie Morstad
Picture book published by Simply Read Books
"Play is the work of the child." – Maria Montessori
There are shelves filled with how to books at my local library. How to change the oil in a car, how to sew a quilt, how to apply make up… These are all jobs for adults. When writing and illustrating a how to book for children, what should be the topic? What is there that children ought to do?
Julie Morstad's How To is a celebration of play and self discovery. When a child wants to go fast, he might choose a scooter or a pair of stilts. When another child decides to go slow she may quietly lie in a grassy spot and enjoy the flowers and butterflies.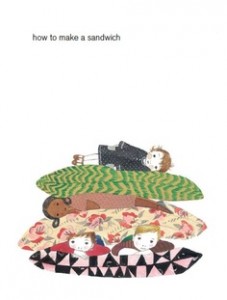 Beautifully drawn illustrations celebrate a diverse group of children at play – flying kites, drawing with sidewalk chalk, hiding, riding a bicycle, drumming on pots and pans and contemplating a steep, high slide. Minimal text and mostly white pages 'leave space' for thinking, appreciating the illustrations and imagining ways to enjoy more play.
Winner of the Christie Harris Illustrated Children's Literature Prize
How To has been nominated for a 2013 Children's and Young Adult Bloggers' Literary Award.
How To at Amazon.com
How To at Amazon.ca