Isaac and his Amazing Asperger Superpowers! by Melanie Walsh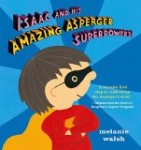 Isaac and his Amazing Asperger Superpowers! written and illustrated by Melanie Walsh
Picture book about a child with Asperger's Syndrome published by Candlewick Press
Written from the perspective of a boy with Asperger's Syndrome, Isaac and His Amazing Asperger Superpowers!
is a cheerful, positive and reassuring picture book that explains how Isaac's thoughts and behavior sometimes differ from those of his friends. Well-suited to preschool-age children or early primary classroom use, bright, bold illustrations are visually appealing and will be easily seen and interpreted in a group or classroom setting.
Friends, family members and classmates will discover that children with Asperger's Syndrome may have different interests, energy levels and ways of interacting than others do. For example, they may like to bounce rather than play team sports or they may fidget with a toy in order to relax and listen in class. They may have difficulty understanding jokes or some in social situations. Insights are shared matter-of-factly, with respect for both the Asperger's child and a child who does not have Asperger's.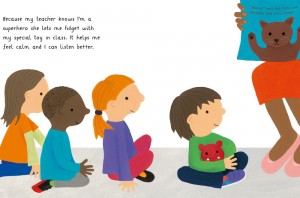 Using meaningful examples and fun illustrations, Walsh helps young readers to understand that children with Asperger's Syndrome have strengths including a great memory for facts, curiosity and a heightened awareness of sounds. She also shows the special relationship an Asperger's child can have with pets and family members.
A great addition to a personal or professional library, end papers include a list of Autism and Asperger's Syndrome links.
Isaac and His Amazing Asperger Superpowers! at Amazon.com
Isaac and His Amazing Asperger Superpowers! at Amazon.ca
Read our reviews of other picture books about Autism and Asperger's Syndrome