My Brother is Autistic, A Picture book about Autism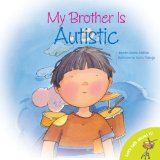 My Brother is Autistic written by Jennifer Moore-Mallinos and illustrated by Marta Fabrega
Picture book about autism
part of the Let's Talk About It! series published by Barron's
Written from the perspective of an older sibling, My Brother is Autistic looks at the realities and challenges of being the brother or sister of a child with autism. Usually Billy and his brother get along reasonably well but, when a classmate frustrates Billy and makes him angry, his older brother is embarrassed by Billy's reaction. He runs away from the scene in the school cafeteria. Help is not far away as he encounters his teacher in a hallway. She listens to him explain what happened and she has empathy for the frustration he feels.
I told my teacher that I wished more kids understood autism, because if they did, then maybe they'd give kids like Billy a chance!
With a consderable amount of text, this picture book is best suited to children kindergarten age and up. A Note to Parents provides general information about autism, characteristics typical of people who are autistic and suggestions for helping siblings of children with autism.
My Brother is Autistic at Amazon.com
My Brother is Autistic at Amazon.ca