Great beginnings – With Writing it's All About a Great Hook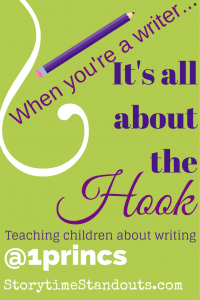 Meghan Trainor says it's all about the base, but really, in writing, it's all about the hook. The beginning. It is in the beginning that we, as readers, decide if we will carry on. Do we attach to the characters? Are we pulled in? Are there stakes that make us want to know right away how things are going to turn out? The writing, and beginning lines, that do this vary from person to person. In the last two weeks, I've been working on writing with my students and we've focused, a lot, on great beginnings. I thought I'd share some of the activities we did to look at how students could learn about capturing their reader's interest. It was fun, interesting, and spending the time to establish the link between what we read and what we write, strengthened their stories.
Write the first line of several novels on the board. Do not include the book name but make it clear that every line is from a different novel (when I did this, I didn't make that clear and the students thought I was introducing them to a VERY strange book).
Have the students read the lines and talk about their favourites with a partner. Then have them talk about why. Give them a chance to share their opinions with the class. (Sentence frames are great for this kind of sharing: My favourite first line was ____ because ____.)
Seeing who liked what lines and why is interesting as both the teacher and for the students. From here, after a good discussion about which lines are best and why, we talk about what makes them good. We ended up brainstorming a list of good hooks: questions, mystery, surprise, humor, and more were among the list.
Students were given time to write a great first line. And their favourite part, of course, was the opportunity to share it. They tried to outdo each other with their captivating sentences.
The activities that followed this lesson were taught with the purpose of further establishing the connection between reading and writing.
Music and story telling:
I told the students we were going to listen to a number of songs and their job was to try to listen to the story that the artist told. We talked about how amazing it is that song lyrics basically tell a whole story in about three minutes.
This was very fun. The students listened, speculated, pointed out key words, told me what they thought the artist was trying to say, how they felt, why they might have felt this way. We used Speak Now
(Taylor Swift), The Man Who Never Lied
(Maroon 5) and How to Save a Life [Clean]
(The Fray). We listened only to the beginnings (about 30 seconds) and the discussions that unfolded based on what the students heard in that time were excellent. They had theories and reasons for those theories that were mature and insightful. The best discussion came from How to Save a Life. Very powerful.
After this, we talked about how music sets a tone and the students were asked to choose a song that would be a good opening if their creative story was to be made into a movie. It was so awesome to see the students connect the tone of the music with the tone of their stories. Some were mysteries, some were comedies, but the best part was that by sharing their song choice, their classmates were able to guess the feel of their story.
And because the best way to encourage writing is to give them time to write (after getting them pumped up to do so), I gave them time to work on their stories.
Before the students shared their stories with each other, we reviewed what makes a great hook. I taught them the secret I didn't learn until my late thirties (on Twitter no less). That "secret" was that to build a strong story, you need to know what your character wants and what is stopping them from getting it. I taught them the sentence frame I use (thanks again Twitter peeps):
____________ wanted _______________ but _____________.
(ie: Alice wanted an adventure but the White Rabbit led her down a rabbit hole and she wasn't sure she would be able to get home).
We did examples of this so the idea became more concrete and it was a great guide for them when helping each other edit. Was your partner able to say, the main character wanted "blank" but "blank" was stopping them. If the student did that and the story worked toward a solution, had an engaging opening line, a beginning, middle, and end, along with the 5 W's (Who, Where, What, When, Why), then the story could be brought to me for further editing.
This is where we've left off for now. From here, we'll continue to edit the stories, do good copies, and then share them as a class. But the students are already paying more attention to great first lines.
Reading and writing are inextricably linked. Some kids don't like reading and some don't like writing. But chances are good that they don't mind one of them. So try connecting the lesson with relevant activities (such as dissecting their favourite songs) to get them invested. I like seeing the students become more aware of themselves as readers, writers, and people. I like watching them establish what they like and why because I believe it helps them make choices that are more suited to their own tastes.
One of my favourite things is going to the library with my class and having them help each other find books or bring a book to me to tell me what's great about it. Think about your own favourite line from a book or a movie. Talk to your students, or you child, about it. It ends up being great dialogue and a lot of fun.
What are your favourite first lines?